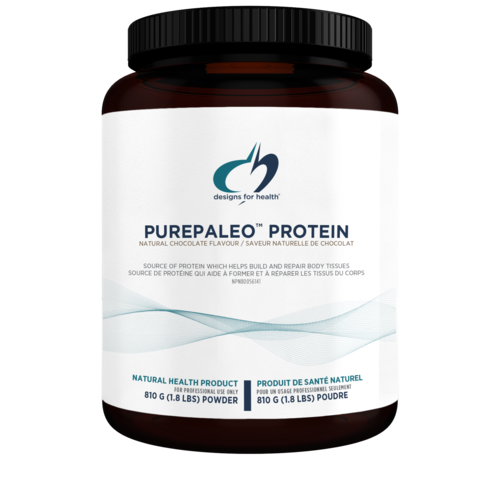 Whether you need a fast + easy healthy breakfast to grab on your way out the door, or something to take the place of less-ideal snack foods when you feel peckish in the afternoons, having a protein shake powder in your pantry can be a game changer. A quality protein shake offers a pleasant taste without packing on the sugar, and should come from quality, preferably organic, ingredients. It makes a fantastic post-workout recovery drink and a healthful meal-replacement option when needed.
Dr. Kelly's favorite™ is PurePaleo™ Protein by Designs for Health. She likes to mix it with almond milk to get even more protein – and flavor – from her shake. Designs for Health explains what sets PurePaleo™ Protein apart from the pack:
"PurePaleo™ Protein is a novel, great-tasting, dairy-free protein powder, yielding 21 g of protein per serving. It contains HydroBEEF™, a highly concentrated, pure beef protein, produced through an exclusive proprietary process that allows the protein to be hydrolyzed into more peptides, resulting in easier absorption and assimilation. This product contains beef from animals raised in Sweden without hormones or antibiotics, and is free of any GMO grains, grasses, and/or ensilage. This is an ideal protein for those who want a true Paleo protein source, want the power of beef to build muscle, cartilage and ligaments, and are dairy sensitive."
Call or message us if you'd like to pick some up from the office. Cheers to your health!